Participating institutions
On the university level, TU Dresden and RWTH Aachen University are involved in this research project. The cooperating industrial partners in phase I were Deutsche Telekom AG, E.ON SE, Techem GmbH and Ericsson GmbH that participated as specialists for communication systems. Associated partners were in phase I the state capital Dresden and the trade association VdZ, the umbrella association for building services and technology. The project is funded by the Federal Ministry of Economics and Energy and is part of the federal government's digitalization strategy.
Universities

The Technische Universität Dresden has its roots in the Technische Bildungsanstalt Dresden founded in 1828. Today it is a full-curriculum university with 18 faculties in five schools which, in addition to the engineering and natural sciences, comprise the humanities, cultural and social sciences and medicine. This diversity of disciplines, which is unique in Germany, is possible thanks to the promotion of the interdisciplinarity of the sciences that makes it one of the most dynamic universities in Germany and contributes to the integration of the sciences into society.
Further information can be found here: TU Dresden

RWTH Aachen University has set itself clear goals. By 2020 it aims to be the best German technical university and one of the five best in Europe in terms of scientific output, the quality of its graduates and third-party funding. It strives to be a leader in large-scale interdisciplinary research projects. It wants to be a university of lasting excellence in research and teaching, visible worldwide, one which on the one hand nurtures outstanding scientists and on the other hand trains qualified young leaders for industry and society in a national and international context.
Further information can be found here: RWTH Aachen
Active Partners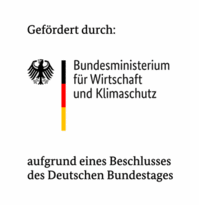 Federal Ministry of Economic Affairs and Climate Action – The social market economy forms the basis for our society – a society characterised by freedom, openness and solidarity. According to these principles, the government must afford businesses freedom to operate on a level playing field whilst also promoting prosperity and social security for the people living in Germany. Ensuring the preservation of global ecological assets, including the climate and biodiversity, will, however, require a fundamental development in the German and the international regulatory framework. This is the central task of the Federal Ministry of Economic Affairs and Climate Action.
Further information can be found here: BMWK
Active Partners in Phase I

Ericsson is one of the leading providers of Information and Communication Technology (ICT) to service providers with headquarters in Stockholm, Sweden. About 40% of the world's mobile traffic is carried over Ericsson's network technology. With innovative solutions and services, Ericsson is working towards the vision of a networked future in which each individual and each industry can realize its full potential. Founded in 1876, the company employs around 101,000 people worldwide and works with customers in 180 countries. In 2017, Ericsson generated sales of 20.9 billion euros (201.3 billion SEK). Ericsson is listed on NASDAQ OMX in Stockholm and NASDAQ in New York. In Germany, Ericsson employs around 1,800 people at 11 locations – including around 700 employees in research and development (R&D). The company headquarters is placed in Düsseldorf.
Further information can be found here: www.ericsson.com
Associated Partners in Phase I

Deutsche Telekom is one of the world's leading integrated telecommunications companies, with some 168 million mobile customers, 28 million fixed-network lines, and 19 million broadband lines. We provide fixed-network/broadband, mobile communications, Internet, and IPTV products and services for consumers, and information and communication technology (ICT) solutions for business and corporate customers. Deutsche Telekom is present in more than 50 countries. With a staff of some 216,000 employees throughout the world, we generated revenue of 74,9 billion Euros in the 2017 financial year, about 66 percent of it outside Germany. So that we can continue to be successful, we are already evolving from a traditional telephone company into an entirely new kind of service company. Our core business, i.e., the operation and sale of networks and connections, remains the basis. But at the same time we are proactively committing to business areas that open up new growth opportunities for us.
Further information can be found here: www.telekom.com

Global trends – like sustainability and climate protection, digitalization and technological innovation – are altering the energy landscape. At the same time, our customers' energy needs are changing. The result of these changes is a brand new energy world – decentralized, green, and interconnected – that we must adapt to. We provide solutions for this new energy world. And we make sure that everything we do has a single focus: our customers. Whether they are individuals or families, big or small businesses, or even entire towns and cities. With around 43,000 employees, E.ON focuses on energy networks, customer solutions and renewable energies. With its clear focus on these three strong pillars, E.ON wants to become the preferred partner for energy and customer solutions.
Further information can be found here: www.eon.com

Techem is a leading global provider of energy billing and energy management solutions for building sector. Founded in 1952, the company now operates in more than 20 countries with over 3,600 employees and it services 11 million homes. Techem is represented worldwide by around 150 branch offices, with around 60 locations throughout Germany alone. Techem offers efficiency improvements for the ogniwa of the entire value chain of heat production and water preparation in biuldings. The company's products and solutions avoid save 6.9 million tons of CO2 every year. These include optimized fuel procurement, innovative energy supply solutions for residential and commercial properties, the recording and billing of heat and water consumption, intelligent solutions for controlling heating systems and radiators, and energy monitoring for property owners and building users. As the market leader in remote metering of energy consumption in homes, Techem continues to drive networking and to introduce digital processes into the buildings. Modern wireless smoke detectors with remote inspection, the Legionella test carried out in cooperation with an accredited partner company and other offers for drinking water quality complete the solutions' portfolio for the housing industry. Techem is a founding member of the "Alliance for a Climate Neutral Residential Building Stock" and the "Smart Living Economic Initiative".
Further information can be found here: www.techem.de/energievision/klimaschutz-digitalisierung

Under the "Smart City" agenda, a future vision for sustainable living in an innovative city is being developed in Dresden the state capital of Saxony. The issues of digitalisation, energy procurement and transportation are decisive factors that will turn Dresden into one of the leading smart cities of Europe. Digital solutions and services are the key components of an intelligent energy system. In Dresden the corporate players from the fields of renewable technologies, energy storage, microelectronics and software development are offered a perfect opportunity for merging their prowess at business, research and development to create a Smart Grid at this attractive location. The state funded business development programs focus on empowering the SME's and enabling them to exploit the opportunities arising from the energy revolution. The City of Dresden is using its innovative strength to develop practicable solutions for intelligent, sustainable cities of the future that can match the challenges put forward by the global climate change.
The focus is on sustainability, energy efficiency and mobility. The city of Dresden is taking on an active pioneering role and is participating in various projects such as "MAtchUP", the lead project of the "Smart Cities and Communities" initiative within the framework of the European research and innovation programme "Horizon 2020" or "WindNODE", part of the "Schaufenster intelligente Energie – Digitale Agenda für die Energiewende (SINTEG)" (Shop Window Intelligent Energy – Digital Agenda for the Energy Transformation) sponsored by the Federal Ministry of Economics and Energy (BMWi).
In addition, the "5G Lab Germany" at the Excellence University TU Dresden is researching the mobile radio technologies of the next generation. The research and development work carried out at the Deutsche Telekom Chair for Communication Networks at the TU Dresden is of strategic importance for the further development of communication and information technologies for the efficient networking of infrastructures in the Smart City. LH Dresden intends to establish the 5G model region the city of Dresden. The resulting smart energy solutions will not only provide impetus for development of an energy system of the future, but will also make an important contribution to meeting the Saxon state capital's climate protection targets.
With over half a million inhabitants, the Saxon state capital Dresden is one of the largest cities in Germany. Dresden is considered to be not only as a hotspot of cultural life but also a leading scientific location in Germany as it has the highest density of research facilities in Germany. These include the renowned University of Excellence TU Dresden, the University of Applied Sciences Dresden and the University of Fine Arts Dresden. All four major German research organisations which is the Fraunhofer and Max Planck Societies and the Leibnitz and Helmholtz Associations also have their branches in Dresden.
Further information can be found here: www.dresden.de/smartcity and www.invest.dresden.de

Fachverband VdZ as umbrella association for building technology – As the umbrella association we represent the interests of the entire chain of the heating and building technology sector: ranging from manufacturers over industrial trade to the skilled trades. We are committed to sustainable and energy-efficient building technology. Our members provide technologies and measures that enable modernisation of heating systems at low costs and thus make an important contribution to achieving energy and climate targets. The abbreviation VdZ refers to the original name "Vereinigung der deutschen Zentralheizungswirtschaft" (Association of the German Central Heating). The association has existed since 1963 and has been the sponsor (and thus co-organiser) of the world's leading trade fair ISH in Frankfurt since 1967. With the relocation of the office to Berlin in 2011, we have moved closer to the center of political gravity and have understood our mission as being the mouthpiece of the industry sector ever since.