Satellite projects – Develop with us the use of the open source N5GEH platform for your applications as part of the KomTechE funding call!
The N5GEH project aims to digitise the energy transition. For this purpose, a basic software structure was developed that includes the essential elements of data acquisition, data transmission, data storage and data visualisation. With regard to data collection and organisation, a scaling solution was implemented.
The N5GEH open source software is structured in such a way that a kind of "modular system" is available for use, so that different application-specific solutions can be integrated.
These applications can be implemented within the framework of satellite projects, which can be applied for within the framework of the funding call "Communication Technologies for the Energy Industry". Information on this can be found at https://www.energieforschung.de/antragsteller/foerderangebote/komteche.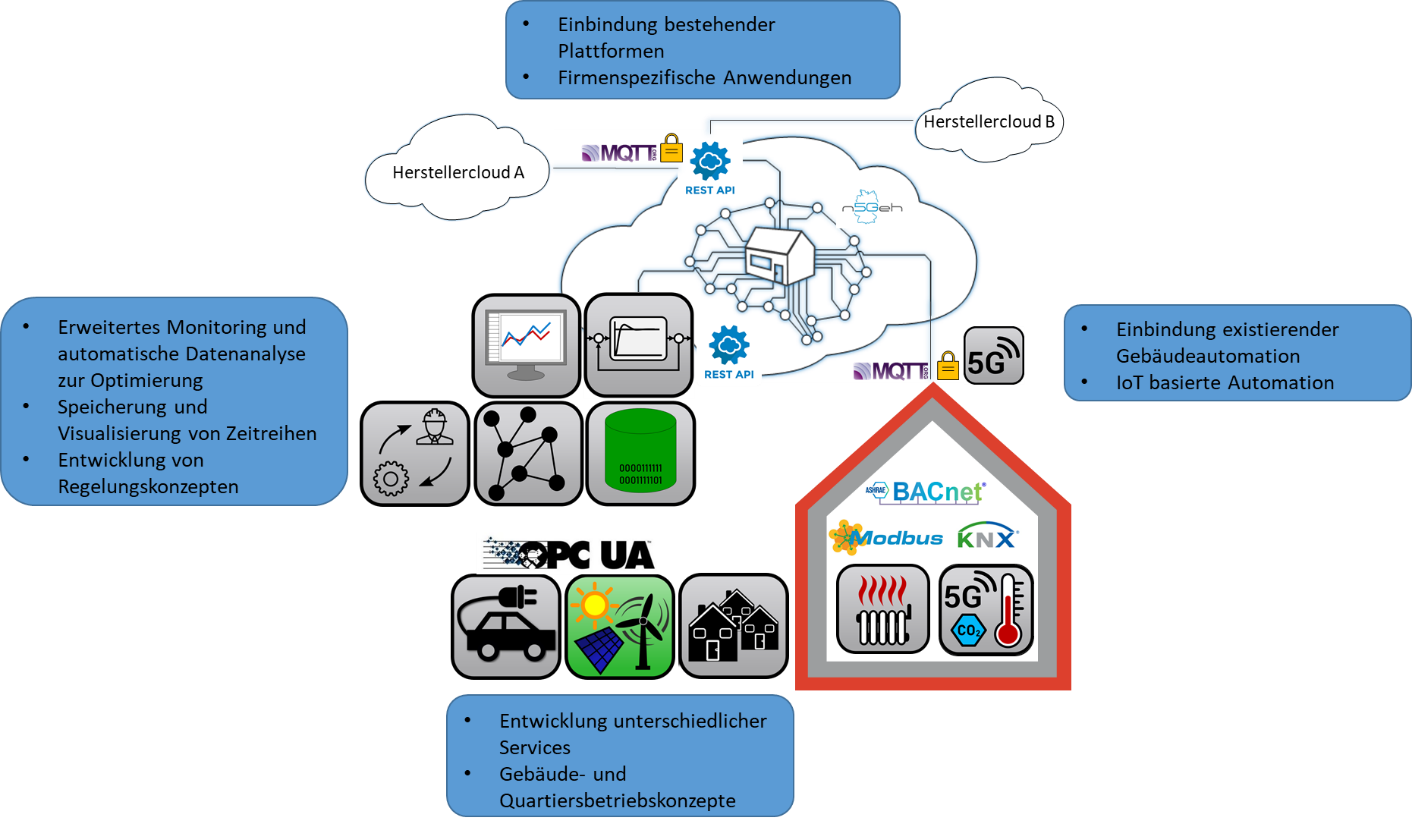 The N5GEH offers satellite projects the provision of a platform for energy systems that can be adapted and used by research institutions and industrial companies for their services. The platform has a uniform data format and is created in a modular way, following the most modern development principles, which ensures that as many use cases as possible can be covered. Significant features are furthermore:
– Interfaces to common field systems and integration of commercially available gateways for other systems.
– Interfaces to IEC 61850 as well as to ISO 15118
– Uniform user administration and authentication
– Prefabricated basic structures for energy services (monitoring/control/sector coupling)
For the implementation of the special use cases of the satellite projects, they will be supported by the N5GEH by providing a freely available reference implementation. This will demonstrate the integration of energy systems into a central platform and the use of basic services.
If you have any questions regarding project funding, please contact:
Projektträger Jülich
E-Mail: ptj-komteche@fz-juelich.de
If you have any questions regarding cooperation approaches or content, please contact:
Prof. Dr.-Ing. habil. J. Seifert
Technische Universität Dresden
DE – 01062 Dresden
E-Mail: joachim.seifert@tu-dresden.de
Phone: +49 (0) 351 463-34909
Fax: +49 (0) 351 463-37076